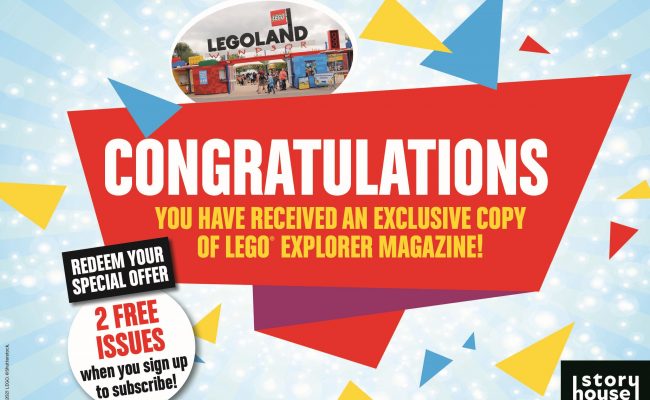 SUBSCRIBE NOW TO THE AWESOME LEGO® EXPLORER MAGAZINE
Your exclusive LEGOLAND DEAL – 2 FREE issues (worth £9.98) stepping up to £23.99 every 6 months
LEGO® Explorer is an awesome magazine designed to inspire young readers to discover and learn using their own LEGO collection.
Every fun-filled issue comes with a unique, collectible LEGO toy made exclusively for LEGO Explorer! Inside each magazine you'll find loads of cool tips and tricks to help you make the most of ALL YOUR LEGO BRICKS as you go on a journey of discovery through the fascinating worlds of SCIENCE, TECHNOLOGY, ENGINEERING, ART and MATHS.
Plus you'll find tonnes of INSIDE INFO from REAL LEGO DESIGNERS to give everyone the skills to be a BETTER LEGO BUILDER!
Subscribe today and save 40% off the RRP!
Exclusive, official LEGO® toy to build with EVERY issue!
40% discount on the retail price of £4.99 per issue
12 incredible issues a year- collect them all!
Priority delivery to your door.
| | | | | | |
| --- | --- | --- | --- | --- | --- |
| £23.99 | Two free issues - Stepping up to £23.99 every 6 months | | UK ONLY | | |
Terms and Conditions :
At the end of the initial term of Direct Debit subscriptions and if there is a change of price or date, you will be notified of this change 10 working days prior to the payment date. After this your direct will automatically renew.
All payment will be taken in Pound Sterling